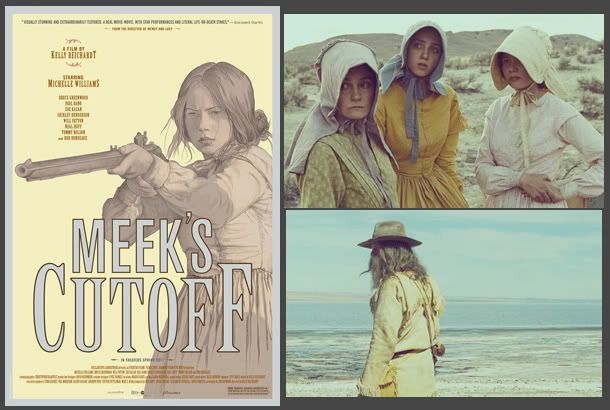 Meek's Cutoff (USA: Kelly Reichardt, 2010: 104 mins)
Cook, Adam.
"MEEK'S CUTOFF, an Untypical Western: Kelly Reichardt's most accomplished work disturbs the foundation of a genre's history."
Keyframe
(March 11, 2016)
Johnson, Katherine.
"Beauty in a Feeling: Meek's Cutoff and Kelly Reichardt."
A Place for Film
(November 14, 2016)
Kreider, Timothy.
"The End of Everything: Apocalyptic Films."
Jump Cuts
#55 (Fall 2013)
Littman, Sam.
"Great Directors: Kelly Reichardt."
Senses of Cinema
(June 2014)
Gilbey, Ryan.
"Kelly Reichardt: how I trekked across Oregon for Meek's Cutoff then returned to teaching."
The Guardian
(April 9, 2011)
Holloway, Lisa.
"Meeks Cutoff (2010): The unheightened moment; taking aim at the male gaze."
Auteuse Theory
(June 28, 2016)
Longsworth, Karina.
"Going the Distance With Meek's Cutoff Director Kelly Reichardt."
Village Voice
(April 6, 2011)
McGoff, Jessica.
"A Tribute to Kelly Reichardt: On going and letting go."
Keyframe
(March 11, 2016)
Pejkovic, Matthew.
"Interview with Meek's Cutoff writer Jon Raymond."
Trespass
(June 11, 2011)
Pinn, Marcus, Brian Risselda and Josh Ryan.
"Kelly Reichardt."
Syndrome and a Cinema
#11 (June 28, 2014)
Staab, Laura.
"Certain Women and Other Animals: A Symposium on the Cinema of Kelly Reichardt at the British Film Institute, London."
Another Gaze
(April 14, 2017)