Who's That Man in the Iron Lung? John Hawkes Brings Years of Film Work to 'The Sessions'
By Margy Rochlin
The New York Times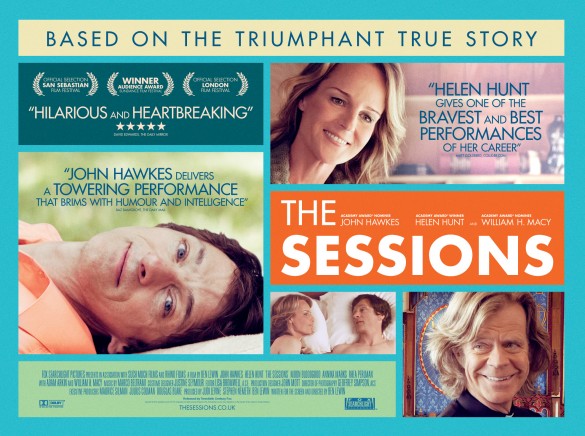 EARLY last year the director Ben Lewin was looking for an actor to play the lead in "The Sessions," a film he wrote based on the true story of Mark O'Brien, a journalist and poet who had contracted polio as a young boy and spent most of his life in an iron lung. The casting director, Ronnie Yeskel, mentioned John Hawkes. "This is your man," she assured him.
Unfamiliar with his work, Mr. Lewin watched "Winter's Bone," the drug thriller set in the Ozarks that won Mr. Hawkes an Oscar nomination. In it he plays a hard-mouthed meth dealer named Teardrop, a far cry from the severely disabled man of Mr. Lewin's film, who with equal parts terror and courage seeks out a professional sex surrogate in order to lose his virginity. "What?" Mr. Lewin remembered thinking. "That creepy guy?"
Only after Mr. Lewin decided to check out some of the actor's other films did he catch John Hawkes fever. "I thought, this guy's incredible, just the diversity of what he can do."
Mr. Lewin wouldn't be the only one to have spent years seeing Mr. Hawkes in untold film and television appearances without being able to put a name to his thin, expressive face. Mr. Hawkes has worked steadily since the mid-'80s (his TV credits include "Wings," "24" and "Deadwood"), yet when he received his dark-horse supporting-actor Oscar nomination in 2011, one headline seemed to sum it up: "Who Is John Hawkes, Anyway?"
Today it's a different story: on the many blogs and Web sites devoted to predicting the winners of the 2013 Academy Awards, Mr. Hawkes's name comes up frequently in conversations about best-actor nominations along with gold-star competition like Joaquin Phoenix ("The Master") and Daniel Day-Lewis ("Lincoln").
Mr. Hawkes likes to think of himself as an "overpreparer," and he certainly went the distance for "The Sessions," in which his character spends much of the film encased in a huge metal apparatus with only his head showing. To approximate Mr. O'Brien's condition — he had feeling in his body but was paralyzed except for one muscle in his right foot, a muscle in his neck and one in his jaw — Mr. Hawkes did everything from studying Jessica Yu's Oscar-winning documentary short ("Breathing Lessons: The Life and Work of Mark O' Brien") to devoting a week stretched out on a couch teaching himself to punch in a phone number using a stick held in his mouth. Then there was the actual shoot, which required spending long days completely still with his neck craned at a 90-degree angle while co-stars like Helen Hunt and William H. Macy hovered over him. "Lying down and literally not having movement below your neck?" Mr. Hawkes said. "It was a particular challenge." Mr. Hawkes did not see a finished version of "The Sessions" (a Fox Searchlight release) until its premiere at this year's Sundance Film Festival, where audience members leapt to their feet at the end. But Mr. Hawkes said he was most moved by what followed the applause: the sight of Mr. Lewin, who also had survived polio, coming to the front of the house for a postscreening discussion.
To Read the Rest of the Profile