[Spoiler Alert -- you should wait until after you have seen the film. I just watched this film and I have to say Felix completely misses the mark and allows his own insecurities to lead him to a gross misreading of the film.]
The Artist, the Most Emasculating Movie of the Year
by Felix Wilder
Omega Level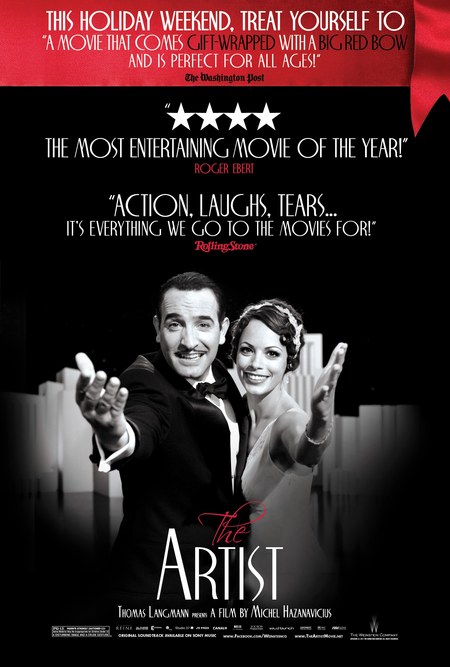 Though the movie industry's year-end tradition—pummeling moviegoers every winter with "Oscar-worthy" products like some cinematic blizzard of unbearable mawkishness and half-baked messages about human nature—has thankfully come to an end, we've reached that unfortunate stretch when the industry congratulates itself by doling out unwarranted accolades. And the film that is getting most of the love (winning a Golden Globe for Best Picture last night) is the one that is the least understood: Michel Hazanavicius' The Artist. Widely hailed as a feel-good comedy about a silent-movie star's transition with the help of a good and loving lady into talking pictures, The Artist is actually a far more tragic tale about a once burly, proud, and charismatic man of few—or, rather, no—words who is methodically broken down by the women in his life, mostly by his supposed love interest who wants him to open up and talk. And by the time he finally does express himself, articulating his feelings, he has become a shell of his former (and better) self. In turn, if the film indeed warrants any accolade, it should be for the Most Emasculating Movie of the Year.
When we are first introduced to the protagonist George Valentin (Jean Dujardin), he is the center of attention, the main man, a huge star of adventure films (think Douglas Fairbanks). The Artist opens at the premiere of his new film, in which he is being tortured so that he will "talk" and divulge important information. But, like the heroic character that he is, he resists the temptation to externalize. Moreover, as The Artist's striking symbol for all men, he remains mum about what he's all about, because by opening up and sharing this guarded information, thus revealing what lies within, it also opens up the possibility of losing himself entirely.
In this film-within-a-film, the actor does not give up the information. Instead, with the assistance of his trusted canine companion, in and out of the movies (a constant reminder of the battle between cats and dogs), George saves his co-star played by Constance (Missi Pyle), outwits and outworks his enemies, and finally soars to freedom on the plane he pilots. The character, like the actor, wins on his own terms, and quite handily at that. He makes it look easy, and the audience at the premiere loves him (and the film) for it. They give him a long standing ovation for his performance, which he duly relishes by himself until he begrudgingly allows his co-star to bask in the overwhelming response. But make no mistake: The audience cheers for him, and him alone.
To Read the Rest of the Response