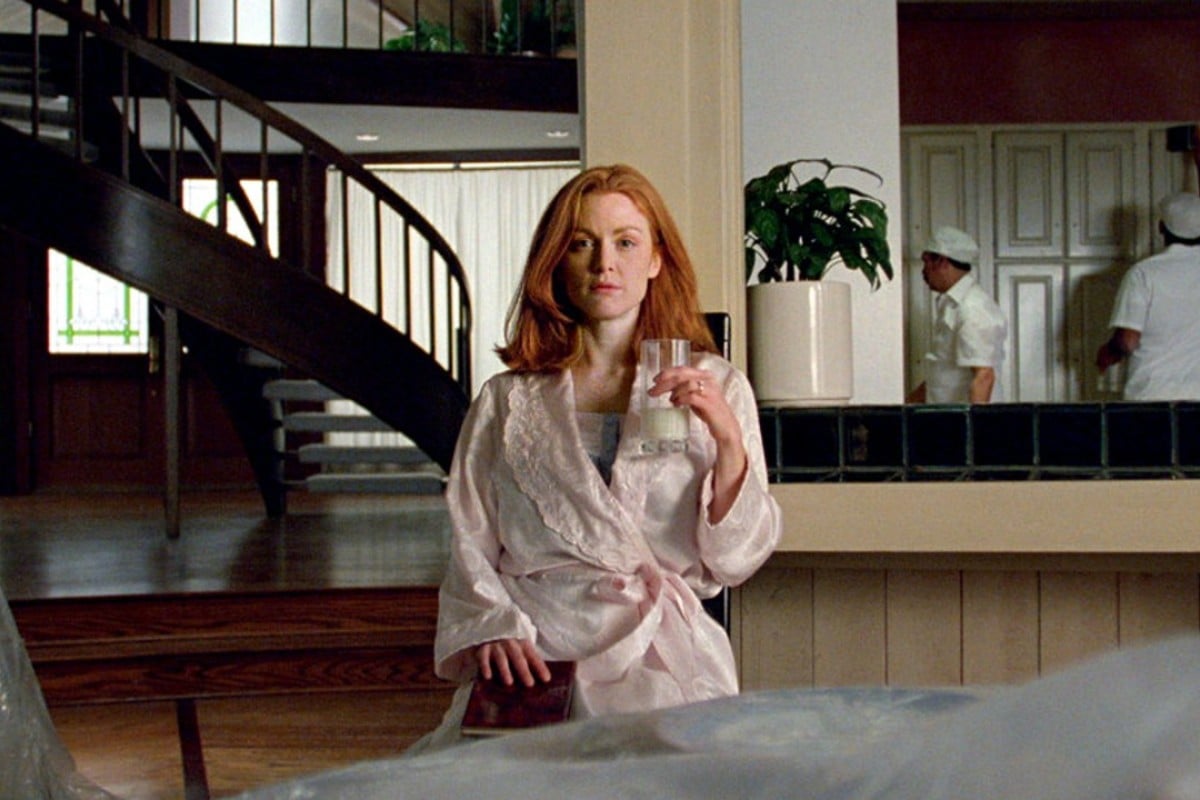 Safe (UK/USA: Todd Haynes, 1995: 119 mins)
Andrews, Mallory.
"She's Lost Control, Again: Todd Haynes' Safe."
Cleo
(July 25, 2013)
Benyo, Crystina and Sic Ric.
"Naked Lunch Radio #12 – Superstar! The Todd Haynes Story."
Sound on Sight
(December 8, 2008)
Berrett, Trevor.
"Todd Haynes' Safe."
The Mookse and the Gripse
(December 10, 2014)
Blackledge, Joel.
"On the Side of the Disease and Not the Cure."
Bright Wall/Dark Room
#62 (August 2018)
Geller, Teresa L.
"'The Hardest, The Most Difficult Film': Todd Haynes' Safe as Feminist Film Praxis Or: 'What the fuck is this?'"
(Grinnell College: posted on
Academia
, ND)
Havis, Richard James.
"Flashback: Safe (1995) – Julianne Moore in Todd Haynes' unsettling parable of America's self-help culture and Aids crisis."
South China Morning Post
(October 14, 2017)
"Julianne Moore and Todd Haynes on Safe."
Current
(December 15, 2014)
Koski, Genevieve, et al.
"Home Sickness, Pt. 1 — Safe (1995)."
The Next Picture Show
#221 (April 7, 2020) ["We continue our shelter-in-place film series with a pair of films featuring magazine-perfect housewife archetypes struck by mysterious illnesses that are inextricably linked to their oppressive environments: Todd Haynes' 1995 feature SAFE and Carlo Mirabella-Davis' debut film SWALLOW. In this half we dig into the many shifting metaphors at play in SAFE, how they reflect both the film's era and our current moment, and how they're all held together by Julianne Moore's remarkable central performance. And what to make of that ending? Is there any sense of optimism or closure to be drawn from Haynes' film?"]
---.
"Home Sickness, Pt. 2 — Swallow."
The Next Picture Show
#222 (April 14, 2020) ["Where the unsettling illness metaphor at the center of Todd Haynes' 1995 film SAFE tendrils out in a manner that defies easy resolution, Carlo Mirabella-Davis' newly released debut SWALLOW tracks a similarly metaphorical affliction toward a more finite ending point. But within those two very different arcs, the two films explore complementary ideas about isolation, gender roles and archetypes, and societal expectations about sickness and recovery, all of which we get into following an in-depth discussion of SWALLOW's successes and failures as both film and metaphor."]
"Larry Gross Talks with Safe's Todd Haynes."
Filmmaker
(Summer 1995)
Leyda, Julia.
""Something That Is Dangerous and Arousing and Transgressive": An Interview with Todd Haynes."
Bright Lights Film Journal
#78 (November 2012)